Healthy Sweet Potato Fries
TO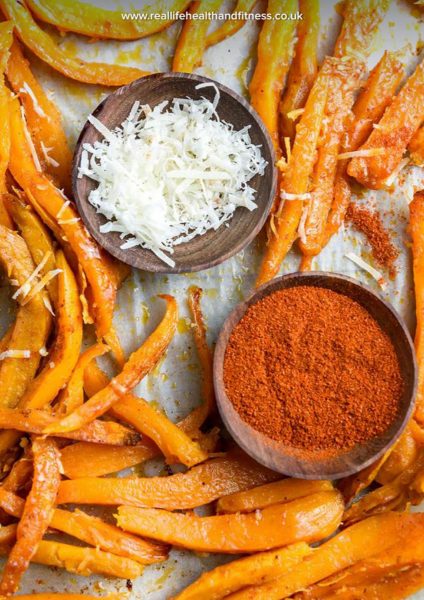 TAL TIME: 40 Minutes
SERVES: 4
INGREDIENTS
3 large sweet potatoes
1 tablespoon extra virgin olive oil
1 teaspoon cumin
¼ teaspoon paprika
½ teaspoon sea salt
Dash of cayenne pepper (optional)
Coconut or vegetable oil cooking spray
INSTRUCTIONS
Begin by preheating your oven to 200°C/400°F/gas 6
Wash and peel the sweet potatoes, cut into lengthwise wedges or
sticks.
Place in a large bowl and drizzle them with the extra virgin olive oil,
tossing to coat.
Combine the cumin, paprika, and sea salt in a small bowl and mix
them together. Sprinkle the mixture onto the cut sweet potatoes
ensure they are thoroughly coated with both oil and spices.
Bake in the oven for about 30 minutes, or until done. Toss once
or twice, turning the pan as needed, to make sure the fries bake
evenly.
MACROS  per portion 
CALORIES 78
PROTEIN 1
CARBS 11
FATS 4
FIBRE 3
For more healthy recipes, see our  Real Life recipe books  We've got 15 recipe books with a minimum of 30 recipes in each ,all with calories and macros to track. that's over 45o recipes! Or join our live monthly subscriptions  for the same price. This is a four week independent training plan you can do from home with no equipment needed.  With a live live subs account, you'll get all our recipe books plus, live workouts, calorie calculator, weight tracker, training plans and online community full of support. Plus other helpful aspects to help you create and fully understand your own training program.